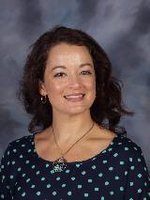 Melinda Glidewell, MMS School Guidance Counselor
What is a School Guidance Counselor?
A school guidance counselor is a type of helper in the school. The primary focus of a school counselor at the elementary level is prevention. My main objective is to help all students learn basic life skills and help your child have a successful school year. Often times, non-academic issues can get in the way of a student's learning (especially during these early developmental years). Addressing these issues can help your child to succeed in school.
Some of the things counselors address with students, parents, and staff are:
Self-esteem, behavior, death/loss, safety, friendship, homework, bullying, conflicts, listening and following directions, transitions, healthy behaviors, honesty, accepting others, separation/divorce, and much more.
School Counseling is a short term resource. If there are greater issues that need extensive attention, I will be glad to assist you in finding an outside counselor to work with your child. I in turn can maintain contact with your student's counselor or therapist to ensure that therapeutic goals are supported here in school.
How does a student meet with a school guidance counselor?
Parents/Guardians may request their child see the counselor
(call, email me directly or notify the teacher)

A staff member may refer a student to the counselor

The counselor may invite your child to talk

Your child may request to talk with the counselor
If a student meets with the school counselor, it does not mean that the student is in trouble!! It's very important that students understand that the Counseling Office is a safe, and non-threatening place.
What types of services are provided?
Individual Counseling – I talk with students on a short-term, confidential basis on either an issue that has been brought to my attention or what the student feels that they need to discuss. I do not force a child to communicate. It is their choice to communicate or not. With younger children, other forms of expression are allowed, such as art. On our first individual meeting, it is disclosed to the student that my primary concern is the safety and well-being of the child. If I feel a child is in danger, another professional adult must be notified.
Response Services – I am here to assist students with coping when there is a crisis. I also respond to immediate issues that have occurred during school hours that prevent the student(s) from actively participating in class.
Guidance Lessons – Here at Moody Middle, we provide character education lessons that are developmentally appropriate and preventative in nature. Character Education covers topics such as (friendship, bullying, respect, responsibility, and much more). Click here for a monthly list of character education topics.
Systems Support – A counselor is available for consultation with parents/guardians, teachers/staff, and other professionals as needed. This intervention can take place in individual or group conferences, or through staff development. In addition, referrals are made to outside agencies when needed.
Here are some reasons a student may want to see the counselor:
"I'm getting picked on the bus and I don't know what to do about it."

"My best friend isn't talking to me and it makes me feel sad."

"I want to show you what I just made in art. I'm very proud of it."

"I'm new to this school and I'm very scared."

"I just want to talk to someone who will not laugh at me."

"My mom and dad just told me they are getting divorced."

"Tim, Sam, and I had a problem at recess. Can you help us work it out?"
Here are some reasons a parent might want to talk to the counselor:
"My husband and I are getting divorced and we think our kids could benefit from talking about it with someone."

"Sarah just doesn't want to go to school in the mornings."

"I'm concerned because Allen tells me he doesn't have any friends."

"We recently had a death in the family, and I'm not sure my child is handling it well."

"Kevin is having difficulty paying attention in the classroom."

"It's almost impossible to get Jason to do his homework at night."

"I'm looking for some resources (books, websites, or videos) on how to deal with a certain issue regarding my child."