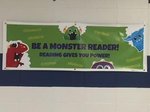 Be A Monster Reader!
Moody Middle School Media Center
Be A Monster Reader!
Reading Gives You Power!
Welcome to MMS Media Center! Our school has an "open access" media center. Students may come to the media center during the day at any time after announcements. Our library is an important part of our school. It is used for club meetings, faculty meetings and other school events. Parents are always welcome to visit the library after checking in at the main office. We also welcome volunteers to help with book fairs, fund raisers, and inventory.
Our reading theme this year is "Be A Monster Reader! Reading Gives You Power!" We want to showcase reading this year. We would also like to have your help with our library program. You can do this in many ways. Please save boxtops, Campbell's Soup labels(only until Christmas), empty ink cartridges, and old cell phones this summer. All of these help us buy supplies, books, and quizzes for our library. We have also begun saving Coke Rewards. Please help us collect the codes from Coke. Visit our links pages to go to these websites to see how you can help us reach our goals.
Visit the links page to find new online books from Capstone and Abdo.
You may also click on the Moody Middle Media Center title above or the link below and either will take you to our MMS Online Catalog which will also have our online books.
(Please click the link above to get to our school library source.)